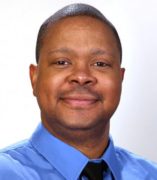 James Cooper
Graduate Student
Learning Sciences Research Institute
Contact
Building & Room:
1570 SSB
Address:
1240 W. Harrison St.
Email:
CV Download:
About
Research and Teaching Interests
Organizational Learning, business strategy simulations, improvisational learning, mentoring learning, organizational development, human resources
Discipline
Organizational Development & Change
Year Entered Program
2018
Advisor
Josh Radinsky
Hometown
Chicago
Professional Goals
Bridge Learning Sciences and Organizational Development. Have 3-5 published papers by the end of my doctoral studies
Hobbies & Interests
Golfing, Gaming, Growing
Why Learning Sciences?
The sciences of learning is the foundation of organizational disciplines, such as organizational behavior, organizational development, and industrial psychology
Why LSRI at UIC?
The faculty are leaders in the field
Notable Honors
2016-2017, Deans Letter for Outsanding Teaching, University of Illinois at Chicago
Education
2013 - PhD, Benedictine University, Organizational Development and Change
2004 - MBA, DePaul University, Human Resources Management
1998 - BBA, Loyola University, Finance
Licensures and Certifications
Senior Professional in Human Resources (SHRM), SHRM SCP (Senior Certified Professional)
Professional Memberships
Academy of Management, Society of Human Resources Professioanls
Research Currently in Progress
Capsim Strategy Simulation: Design Decisions of an Advance Human Resources Module – Developing – Work in Progress
Examining the Connections of Organizational Development and Learning Sciences: A Conceptual Literature Review and Research Themes – Work in Progress
What are Business Students Really Learning? Validity Study of Capsim Strategy Simulation – Work in Progress
A Place to Call their Own: Learned Matriculation Strategies by African-American Students at Predominately White Institutions When Mentored by One of their Own. Work in Progress