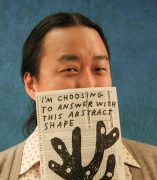 Raymond Kang
Graduate Student
Learning Sciences Research Institute
Contact
Building & Room:
1570 SSB
Address:
1240 W. Harrison St.
Email:
About
Discipline
Educational Assessment and Teaching/Learning Analytics
Entered Program
Fall 2011
Advisor
Hometown
Carol Stream, Illinois
Professional Goals
Designing learning tools and environments that allow anyone to iteratively refine their own practice by creating and accessing more useful and actionable information about what they do and how well they do it.
LSRI Projects
Chicago Transformation Teacher Institutes (CTTI): A project led by Donald Wink that supports teachers in becoming leaders within their schools by providing subject-matter courses and wrap-around, professional development workshops. Currently, I am implementing one of these workshops focused on assessment that I designed.
CoCensus: A project led by both Joshua Radinsky and Leilah Lyons that explores how people learn with large and complex sets of data. In this project, I am implementing algorithms to logs from users' interactions with a website that provides geographic information system (GIS) visualizations of U.S. Census data.
Hobbies & Interests
I enjoy playing strings, cooking victuals and concocting brews. I also spend an inordinate amount of time staring at screens where I write, code, and game.
Why Learning Sciences?
I chose to enter the field of Learning Sciences because of the time I spent working with youth who coped with severe emotional and behavioral disorders. Through those experiences, I came to realize that being is learning and the profound impact that our ecological milieu has upon that being | learning. I also came to the realization that we, unfortunately, have not evolved effective ways of assessing learning in many different areas (social, emotional, behavioral, and cognitive) despite substantive advances in technology, neuroscience, and theory. This needs to change, and I would like to help that happen.
Why LSRI at UIC?
I chose to come to the Learning Sciences Research Institute because of how the people here embrace the interdisciplinary nature of learning sciences while also respecting the wide array of paths that lead people to a fascination with learning. Also, the incredibly prodigious and accomplished staff led by Jim Pellegrino and Susan Goldman easily led me to make this decision, and I do not regret it, due to the work I have done here and the relationships I have cultivated with my advisor, mentors, and fellow students.
Education
M.A., Social Sciences
B.S., Biological Sciences
B.A., Philosophy