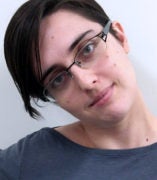 Alexa Lee-Hassan
Graduate Student
Learning Sciences Research Institute
Contact
Building & Room:
1570 SSB
Address:
1240 W. Harrison St.
Email:
CV Download:
About
Research and Teaching Interests
Mathematics education for pre-service teachers and their mathematical mindsets
Discipline
Mathematics Education and Measurement, Evaluation, Statistics, and Assessment
Year Entered Program
2017
Advisor
Alison Castro Superfine and James Pellegrino
Hometown
Saint Louis, MO
Professional Goals
I want to work with pre-service teachers and other educators to help them develop mathematical knowledge for teaching and productive mathematical mindsets. I also want to continue my research into the ways (potential) educators frame themselves and their (future) students in the context of a mathematics classroom.
Hobbies & Interests
Nerdy sci-fi pop culture, especially around superheroes and comic books and boxing
Why Learning Sciences?
I believe education is incredibly important both in and of itself and as a lever in the fight for social justice. At its best Learning Sciences blends the theoretical and the practical in the study of teaching and learning. Because it is interdisciplinary, Learning Scientists can benefit from methodology and insights from a wide variety of fields and implement the results in a practical and meaningful way.
Why LSRI at UIC?
I appreciate LSRI's disciplinary focus and the professors' dedication and the depth and breadth of their knowledge base. What I value the most, though, is the way that LSRI is a collaborative, supportive research community.
Education
2009 - MAT, University of Chicago, K-9 Education
2008 - BA, University of Chicago, Psychology
Research Currently in Progress
My research is currently focused on the learning that happens in a mathematics content course designed for undergraduate students who plan to become elementary teachers. I am interested in the ways that the pre-service teachers think about themselves and their future students in relation to the discipline of mathematics. I am also interested in the ways that such a course can implicitly and explicitly address issues of equity and crititcal math pedagogy.