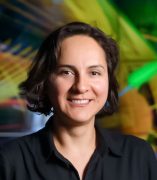 Brenda Lopez Silva
Research and Development Specialist
Learning Sciences Research Institute
Contact
Building & Room:
1570-H SSB
Address:
1240 W. Harrison St.
Office Phone:
Email:
About
Brenda Lopez Silva is a senior staff member in the University of Illinois at Chicago (UIC) Learning Sciences Research Institute, where she researches, designs, and implements learning technologies for formal and informal educational settings. In addition to her duties at UIC, Brenda is a member of the faculty of the Department of Art and Technology Studies at the School of the Art Institute of Chicago (SAIC), where she teaches a course on immersive environments. She is also an advisor to UNESCO in Mexico, where she develops technology-based educational tools for preschool students in Mexico.
Brenda has produced several technology-based projects that have been exhibited at the Museum of Science and Industry, the Adler Planetarium and Museum of Astronomy, the SciTech Hands-On Museum, and the Alameda Art Laboratory in Mexico City. She has also been a guest researcher at the Pompeu Fabra University in Barcelona, Spain, where she conducted research on augmented reality and the impacts of embodied interactions on learning processes and physical efforts in children.
Brenda has a workshop in the Realization Lab in the Learning Sciences Research Institute. Check it out!
Education
Brenda has an MFA in electronic visualization from the University of Illinois at Chicago, a BA in graphic design and communication from Universidad Autónoma Metropolitana in México, and a post-baccalaureate degree in new technologies from Universidad Autónoma Metropolitana in México.
Research Currently in Progress
Responsible for the research, development, design, and implementation of learning technologies for use in formal and informal) educational settings to support grant-funded and student-initiated projects.
Contributes to the development of curriculum materials that serve students, teachers, school leadership, and classroom coaches in classes Pre-K through 12th grade and to the continued research and design of future technology-based curriculum materials.