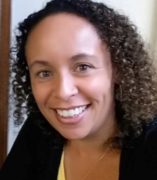 Monika Moore
Graduate Student
Learning Sciences Research Institute
Contact
Building & Room:
1570 SSB
Address:
1240 W. Harrison St.
Email:
CV Download:
About
Research and Teaching Interests
I am curious about how college instructors approach disciplinary literacy (especially reading) instruction and practices in their classrooms. I am interested in designing learning environments for reading dynamic visualizations, and I am also intrigued by drawing to learn in geosciences.
Discipline
Disciplinary literacy, reading & spatiality
Year Entered Program
2018
Advisor
Josh Radinsky
Hometown
Alameda, California
Professional Goals
I would like to support students in adapting to college level expectations, and collaborate with teachers in developing learning environments.
Hobbies & Interests
I love cooking and eating, and traveling. I write speculative fiction for fun, and I am also trying to get better at sewing and Spanish. I watch a lot of dark comedies and British panel shows, and I try to squeeze in a detective novel or weird sci fi book when I get a chance.
Why Learning Sciences?
I am attracted to the Learning Sciences because of its interdisciplinary nature, and because it is flexible in terms of what to study and how.
Why LSRI at UIC?
LSRI's approach to Learning Sciences feels both structured and open, and I appreciate the emphasis on mentoring. I also like being able to integrate a disciplinary specialty into my program.