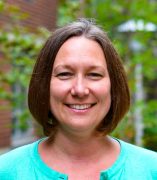 Amy Ricketts
Postdoc Research Associate
Learning Sciences Research Institute
Contact
Building & Room:
1570-H SSB
Address:
1240 W Harrison St
Email:
CV Download:
About
For thirteen years, I taught elementary and middle school science in Southern California public schools.  During that time I became increasingly frustrated with the lack of professional learning opportunities available to me, and decided to pursue a doctoral degree to continue my learning.  In graduate school, everything I thought I knew about professional development was turned (literally) upside down. Now, my passion is supporting teacher learning across the career span through job-embedded professional development—namely designing, facilitating and researching school-based, collaborative professional learning communities that position teachers with agency.  Most importantly, I strive to learn with and from teachers.
Selected Publications
Ricketts, A. (2018). Analyzing the generative nature of science teachers' professional discourse. In G. K. Kelly & J. Green (Eds.), Theory and methods for sociocultural research in science and engineering education (pp. 206-233). New York: Routledge.
Kelly, G. J., Cunningham, C. M., & Ricketts, A. (2017). Engaging in identity work through engineering practices in elementary classrooms. Linguistics and Education, 39, 48-59.
Knight, S. & Ricketts, A. (2015). Professional learning communities. In L. H. Meyer (Ed.), Oxford Bibliographies in Education. New York: Oxford University Press. http://www.oxfordbibliographies.com
Ricketts, A. (2014). Preservice elementary teachers' ideas about scientific practices. Science & Education 23, 2119-2135.
Ricketts, A. (2013). The Five Commonplaces: A curriculum analysis and its implications for teacher education. Pennsylvania Teacher Educator, 12, 29-36.
Ricketts, A. (2011). Using inquiry to break the language barrier: English language learners and science fairs. The Science Teacher, 78(8), 24-26.
Education
2017 Ph.D. Pennsylvania State University, Curriculum & Instruction (Teacher Education/Science Education
2004 M.S.Ed. University of Southern California, Curriculum & Instruction (Science Education)
1997 B.A.Ed. University of Michigan, Elementary Education (Science content concentration)
Research Currently in Progress
At UIC, I am a researcher on the NSF-funded project: LETS Science: Language- Enhanced Teaching in Superdiverse High School Science Classrooms. (NSF DRL # 1813937). This project aims to contribute to our understanding of how science teachers learn to best support students in linguistically "superdiverse" schools.