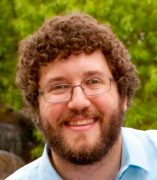 Brian Slattery
Graduate Student
Learning Sciences Research Institute
Contact
Building & Room:
1570 SSB
Address:
1240 W. Harrison St.
Email:
CV Download:
About
Research and Teaching Interests
Informal learning, museum interpreters/docents, informal science education, human-computer interaction, professional development
Discipline
Cognitive psychology, Informal learning
Year Entered Program
2010
Advisor
Leilah Lyons
Hometown
Highland Park, IL
Professional Goals
Work at an informal institution (e.g. museum, zoo, aquarium, etc.) in the areas of education, interpretation, and technology, continuing my research on learning in informal settings
Hobbies & Interests
Comics, constructed languages, and gaming
Why Learning Sciences?
I've always been interested in the different ways that people learn and how that can be affected by content and context. Learning sciences provides the best way for me to learn how to make our shared educational institutions stronger, and how to support enjoyable, lifelong intellectual development.
Why LSRI at UIC?
I was drawn to UIC due to its location, as Chicago is full of so many great museums and informal learning spaces. But LSRI is mainly valuable because of the people working here—I greatly appreciate the wide variety of disciplinary interests, backgrounds, and research perspectives that LSRI members bring to our many projects.
Service to Community
Past president of the UIC Learning Sciences Student Association (LSSA), Founding member of the Learning Sciences Graduate Student (LSGS) Conference organizational committee
Notable Honors
2011, Honorable Mention, NSF Graduate Research Fellowship Program, NSF Graduate Research Fellowship Program
Education
2015 - National Association for Interpretation, Certified Interpretive Guide
2010 - BA, Indiana University, Cognitive Science
Licensures and Certifications
Certified Interpretive Guide (National Association for Interpretation)
Professional Memberships
Visitor Studies Association
Research Currently in Progress
Climate Literacy Zoo Education Network (CLiZEN), "A Mile in My Paws"