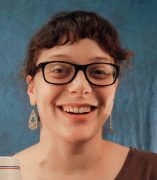 Emma Hospelhorn
Alumni
Current Position: Musical Director, Bridging Memory Through Music
About
Dissertation Topic: Embodied, Representational, and Distributed Learning Practices in a Professional String Quartet
Hometown
Chicago, IL
LSRI Projects
The American Migrations Project: Teaching and Learning Social Science Inquiry, CAREER: Teaching and Learning Social Science Inquiry, and Spatial Reasoning with GIS.
Hobbies & Interests
board games, card games, bodies of water, fiction, rock and roll.
Why Learning Sciences?
Learning is the one thing humans do better than any other animal. Learning Sciences asks: HOW?
Why LSRI at UIC?
I came into this program fascinated by the ways in which people understand stories as they are experienced through music, literature, and art, as well as the ways we learn to communicate as groups rather than as individuals. The interdisciplinary nature of UIC's LS program has allowed me to explore all of these interests--and develop new ones--while learning from a wide range of colleagues with interests that range from chemistry to literacy to embodied cognitive to urban planning.
Education
2016 - PhD, University of Illinois at Chicago, Learning Sciences
BA, Columbia University, English
BM, CUNY Queens College, Flute Performance