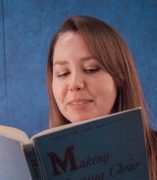 Katie James
Alumni
Current Position: Postdoctoral Research Fellow, Northwestern University
About
Dissertation Topic: Supporting Productive Sense-Making in Text-Based Explanatory Modeling
Hometown
Glen Ellyn, Illinois
Professional Goals
Establishing connections between cognitive psychology and learning sciences research to improve the design of learning environments in both formal and informal settings.
LSRI Projects
Reading for Understanding Across Grades 6 through 12: Evidence-based Argumentation for Disciplinary Learning and the Integrating Cognition and Measurement with Conceptual Knowledge: Establishing the Validity and Diagnostic Capacity of Concept Inventories
Hobbies & Interests
Irish Dance, A Cappella
Why LSRI at UIC?
LSRI at UIC offers a unique environment in which Learning Scientists and Psychologists work closely together to investigate a variety of learning-related questions.
Education
2017 - PhD, University of Illinois at Chicago, Learning Sciences
EdM, Mind, Brain, and Education
BA, Psychology