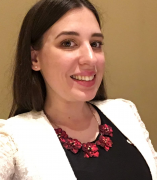 Aleksandra (Ola) Adach
Graduate Student
Learning Sciences Research Institute
Contact
Building & Room:
1570 SSB
Email:
CV Download:
About
Research and Teaching Interests
heritage language learning
bilingual education
language and identity
narratives
informal learning environments
Discipline
Language, Literacy and Culture
Year Entered Program
2017
Advisor
Josh Radinsky
Hometown
Lublin, Poland
Professional Goals
Research that will focus on leveraging multilingual learners' assets in formal and informal learning environments.
Hobbies & Interests
My hobbies of traveling and cooking are intertwined: I always bring new recipes from my travels. I also enjoy photography, going to concerts, and crafting.
Why Learning Sciences?
Interdisciplinary approach, design-based research in authentic settings, strong commitment to issues of equity
Why LSRI at UIC?
Supportive community, experienced faculty, great resources and opportunities for growth as a researcher.
Education
2016 - MA, Southern Illinois University, Sociology
2014 - BA, Maria Curie-Skłodowska University, Applied Linguistics