Services and Fees
Whatever the size of your project, we will work with you to develop an evaluation plan that meets your project goals and your budget requirements.
For federally funded proposals, a typical evaluation budget is 10-15% of the total award amount. This is a good rule of thumb for most projects at a variety of funding levels.
Evaluation
We will help you identify goals for your evaluation plan and develop the tools and data collection strategy to ensure they are met.
Reporting
Whether you need an official report to provide a funding agency or just want to share successes and lessons learned with your own team, we can create reports that will help in reflection and future planning.
Applied Research
Your research agenda may be different from or similar to your evaluation plan. We can help you plan, collect, analyze, and write up research data for dissemination and publication.
Technical Assistance
Based on years of experience with projects, we can provide advice on IRB approvals, project management, and project implementation.
Grantwriting
Besides crafting an evaluation plan for your proposal, we can offer consultation on the entire grantwriting process, based on years of experience with teams that have secured grant funding.
Facilitating Conversations
We can help facilitate conversations with your stakeholder groups about the data and evidence we collect to ensure productive implementation of the findings.
"Collecting data" and "reporting data" can take many forms: in this project, evaluators and program staff co-created charts of issues within the school system (left) and a local/global/personal timelines (right) as part of their program evaluation.
Image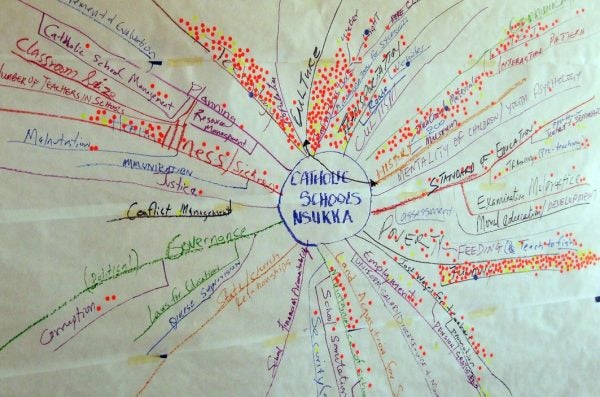 image 2